Awana
Puggles
Cubbies
Sparks
Truth & Training
Girls in Action
Royal Ambassadors
Mission Friends
Awana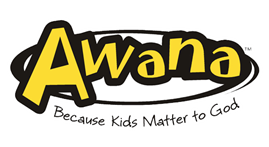 AWANA is a Bible-based, Christ-centered program for children.  It blends Bible teaching, scripture memorization and tons of fun together to impact children and families with the Gospel.  The word AWANA stands for Approved Workmen Are Not Ashamed and comes from the Bible verse II Timothy 2:15: "Study to show thyself approved unto God, a workman that needeth not to be ashamed, rightly dividing the word of truth."
The goal of AWANA is to reach boys and girls with the gospel of Christ and to train them to serve Him. It is a great honor to serve God in this way and to lead children to a saving knowledge of Jesus Christ.
AWANA meets each Sunday night during the school year from 5:00-6:00 PM.  Each week children ages 2 through 6th grade participate in fun activities that help build trust in God and Christ and teach them about Christian values, faith and service all in an age and Christ –centered environment.
Puggles
Cubbies
Sparks
Truth & Training
Girls in Action
Royal Ambassadors
Mission Friends